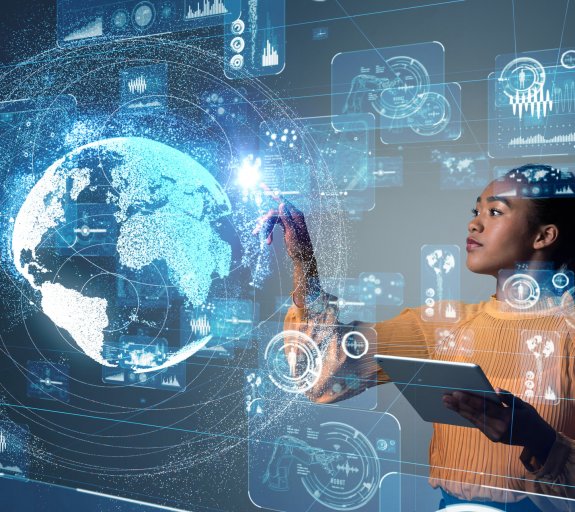 Robotech strategy - April 2022
---
We now see attractive valuations in the semiconductor sector
Equity markets fell sharply during April
Market continues to be nervous around the potential pace of rate rises
Weakness in semiconductor companies following a very strong 2021 for the sector
What's happening?
Equity markets fell sharply during April (MSCI ACWI Index in USD terms), continuing the challenging start to 2022.  The Robotech strategy lagged the MSCI ACWI Index during the month.  Over the period, Energy, Materials, Utilities and Real Estate were amongst the best performing sectors of the global equity markets – areas in which the Robotech strategy has no exposure.
Geopolitics and rising Energy prices again dominated market sentiment during the period as a result of the Ukraine conflict.  Concerns continue to build around the risk of an economic slowdown with consumer spending likely curtailed as a result of higher energy prices meaning less scope for discretionary spend.   In early May, the federal reserve hiked interest rates by 0.5%1 , which continues the recently started normalisation process of interest rates, following the cuts at the onset of the COVID pandemic.  The market continues to be nervous around the potential pace of rate rises over the coming year, particularly in the face of a seemingly softening economic outlook.
Earnings season commenced in April and so far, reports from companies have largely been encouraging.  Companies continue to point to the challenges of supply chain issues and component shortages as well as input cost inflation which has pressured margins in some cases.
Portfolio positioning and performance
With the risk of a softer consumer spending environment, we have seen weakness in some of our consumer focussed companies including Amazon and Ocado (a UK based supplier of automation solutions for the grocery market).  We have also seen weakness in the share prices of many semiconductor companies following a very strong 2021 for the sector.  The semiconductor companies, such as ON Semi (Largely focussed on Automotive and Industrial chips), Qualcomm (Smartphone chips) and Silicon Labs (Internet of Things chips) have all reported healthy results and outlooks, with only Texas Instruments offering a weaker outlook citing uncertainties caused by the lockdowns in China.  The combination of robust earnings and falling share prices for the group has resulted in significant multiple contraction for the sector, where we now see attractive valuations.
The was a mixed reporting season for some of the Japanese automation names.  Fanuc, a leading Japanese robot manufacturer reported strong orders, but softer profitability as a result of component shortages and increased costs.  Keyence, a leader in sensors and components for factory automation fared better, with record quarterly sales and a healthy backlog of demand.
April saw a high degree of market volatility.  We trimmed positions on some companies that had help up better including Apple and semiconductor company Texas Instruments, which so far this year has been more resilient than most of its peers.
We added to our position in German industrials company Siemens.
Outlook
Inflationary pressures have continued to build as the year has progressed with the Ukraine conflict contributing to rising energy prices and raw materials.  This presents headwinds to industrial companies that will either need to absorb these increases themselves, pass the impacts on to customers or most likely, a combination of the two.  The recent events in Europe have added to an already complicated situation for supply chains.  The increase in Energy prices risks having an impact on consumer spending intentions, where a more constrained consumer will likely cut back on discretionary spend.
We continue to believe that inflationary pressures and supply chain challenges will continue to have an impact on companies operations as well as labour shortages in certain parts of the economy contributing to rising wage pressure.  According to the US JOLTS figures (Job Openings and Labour Turnover Survey), there are around 11 million jobs that are currently being advertised for in the US compared to 6-7 million which was the average in the years pre-pandemic.  This high level of job openings indicates that companies are trying to source employees, but are struggling to find them.  In many industries, labour scarcity presents an opportunity for automation to help ease these pressures, particularly in areas like manufacturing and we see this being a key driver of automation demand whilst these issues persist.
At the end of October 2021, The International Federation of Robotics, a leading industry research group that track deployments of industrial robots around the world, released their figures of industrial robot deployments.  This confirmed, that despite the disruption seen by COVID, shipments of industrial robots were higher in 2020 than in 2019.  They also released their forecasts for robot installations out to 2024 which showed continued solid growth for the industry.  We are optimistic for the growth of Robotics over the coming years - in addition to the pent up demand for automation equipment post COVID-19, we believe that there are also elements of pent up demand coming through post the US China trade war of 2019/2020 – we were starting to see signs of this recovery at the end of 2019 and early 2020 before COVID put companies investment plans on hold.  If this does start to materialise, this could signal a more prolonged period of higher industrial activity and CAPEX2 investments, supportive to a range of automation companies.
No assurance can be given that the Robotech Strategy will be successful. Investors can lose some or all of their capital invested. The Robotech strategy is subject to risks including; Equity; Emerging markets; Investments in specific sectors or asset classes; Global investments; Investments in small and/or micro capitalisation universe; ESG.
Source: Bloomberg – 04/05/2022
CAPEX: Capital Expenditures