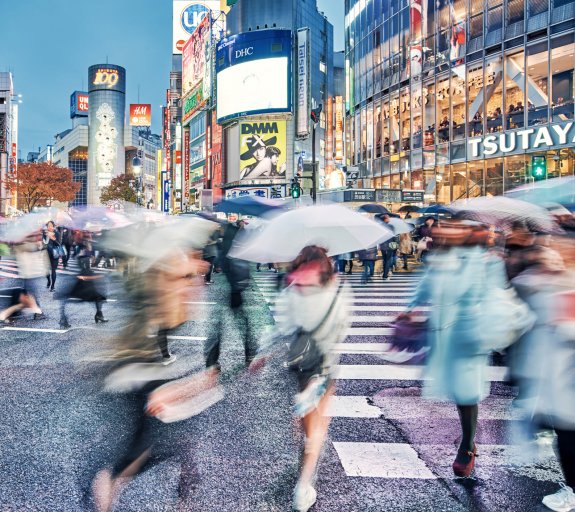 Asian Credit Strategies - Beyond rally and recovery, what next?
13 August 2020 (7 min read)
---
Key points
Market is essentially fully priced though some value remains generally across China and in a few pockets across the market.
Some spread compression opportunities in oversold but fundamentally sound issuers.
Virus driven economic challenges and negative developments from US-China tensions remain as key investment challenges.
---
What's happening?
The J.P. Morgan Asia Credit Index (JACI) returned +2.2% in July, extending the recovery from the 1Q2020 losses with YTD returns at +4.51%.  As of 31st July, the index is represented by 607 issuers, with a market capitalization exceeding US$ 1.14 trillion.  Despite the rising daily reports of new infection cases and the escalating US-China tensions, this has not triggered any risk aversion as ample liquidity support provided by global central banks continued to sustain the bond market rally.  Sovereign bonds were the best performers in July (+4.7%) with HY (+8.1%) leading IG (+3.9%) countries, while Quasi-Sovereign (+2.1%) and Corporate (+1.8%) also delivered positive returns in July.  At the country level, Sri Lanka (+14.7%) was the best performing country owing to spread return (+14.4%) followed by Indonesia (+4.4%) and Mongolia (+3.9%).  With single-B credit spreads gapping in further in July, Asian high yield (+2.42%) continued to outperform investment grade (+2.13%).
Image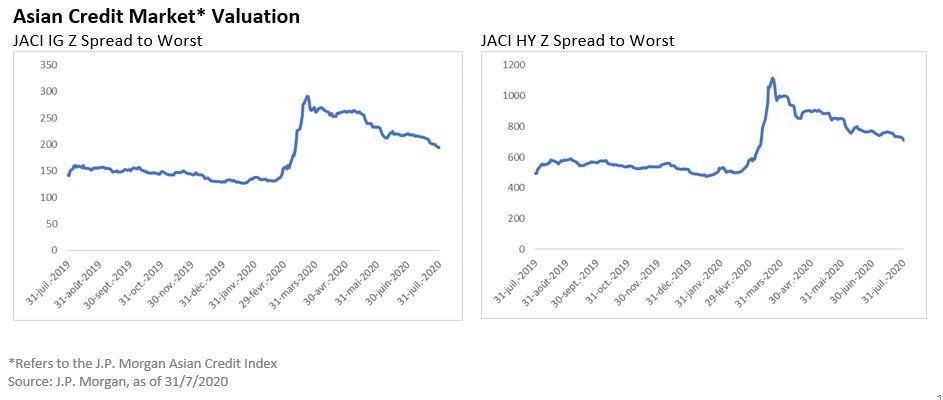 Monthly Returns:
J.P. Morgan Asia Credit Index (JACI) +2.20%
Investment Grade +2.13%
High Yield +2.42%
Corporates
+1.70%
Sovereign
+3.87%
Quasi-Sov
+2.11%
Corporates
+2.02%
Sovereign
+8.09%
Quasi-Sov
+1.60%
 Portfolio positioning and performance:
Key Strategies
Performance
Country /Sector:
Mixed results as other countries in region begin catching up to China, where performance was positive but lagged. Slight ow exposure to Indonesian HY corporates was beneficial while neutral to uw positioning to HY frontier sovereigns and Indon Sov and QS dragged on performance.
=
DTS:
Structurally low duration was a negative offset to slight tactical long, while inflows into HY raised cash levels. Generally reducing credit beta but still neutral to ow kept us generally in line with credit market movements.
=
Bottom-up:
Selective new issue participation as pricing remains tight, so significant price impact. Rally and recovery continues quite broadly; we have adequate exposure to rallying names.
=
Outlook
Aggregated spread levels still imply that the Asian credit markets have value.  Closer inspection reveals this is really not the case.  Since the end of the March, large sections of the market have rallied steadily and are now essentially fully recovered.  Attractive valuations do remain still in large numbers in China and in pockets in Indonesia, India and elsewhere.  While regional investors may be running up against capacity and risk budget limits for China generally and single-B China property developers specifcally, the reasons for cheap valuations outside of China are less technical and more fundamental.  Outside of China, virus containment remains a challenge and the economic impact, already large, is still a significant prospective uncertainty.  There may be bargains out there, but they must be selected carefully with cash flow, liquidity and access to funding critically important factors.  While the market may be adopting a bit of Chicken Little skepticism regarding omnipresent headlines of US-China tensions, an unforeseen confrontation and uncontrolled escalation is no longer a remote risk and should be factored into portfolio positioning. 
No assurance can be given that the Asian Credit Strategy will be successful. Investors can lose some or all of their capital invested.
The Asian Credit Strategy is subject to risks including Credit risk, Liquidity risk, Derivatives and leverage, Investments in specific countries or geographical zones, Sovereign debt, Emerging markets, High yield debt securities, Contingent convertible bonds.
Not for Retail distribution