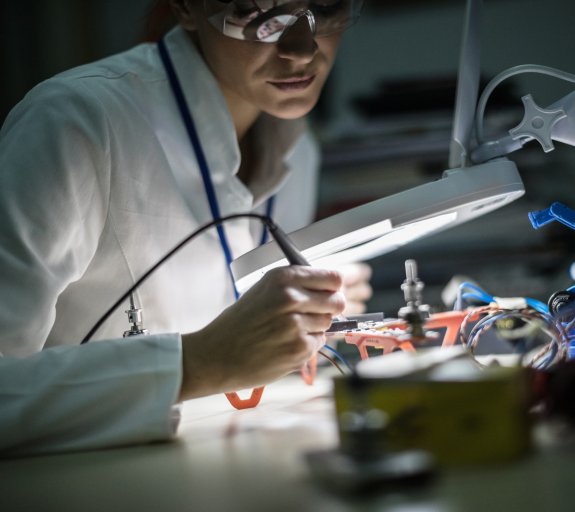 Robotech strategy - A number of areas of the strategy have seen elevated demand during this period
05 June 2020 (7 min read)
---
Key points
The Robotech strategy continued its rebound from the March broad sell-off
Our industrials holdings significantly contributed to performance
We increased some of our industrial holdings on signs of economic activity bottoming and beginning to recover
---
What's happening?
During May, the Robotech strategy performed strongly, continuing its rebound from the broad sell-off seen across equity markets in March.  The relative performance of the strategy continues to be resilient vs. the broader equity market (MSCI AC World) so far in 2020 and May was another good month for relative performance. 
In General, equity markets performed well as economies in Europe and the US commenced the reopening process and progress towards an eventual vaccine continues.  Confidence that reopening can be done in a safe and managed way is helped by data from some of the Asian economies that are further in to the reopening process that have achieved this with some success, albeit with isolated local further outbreaks.  Investors will continue to carefully monitor developments here, as well as the impacts of the virus on economies such as India and Brazil that have seen case growth rise.
Whilst corporate earnings results have often been weak, this was largely anticipated by investors and there has been some reassuring company commentary that we have seen gradual improvements in activity as recovers
Portfolio positioning and performance
In addition, there has also been a number of areas of the portfolio that have seen elevated demand during this period, such as ecommerce companies providing automated ecommerce solutions like Amazon, as well as companies like Daifuku which provide materials handling solutions for warehouses.
We saw continued strong performance from British online grocery retail Ocado during the month.  Over the last few years, Ocado have transformed their business model to focus more on licencing their proprietary automation technology to companies overseas – notably Kroger in the US as well are grocery chains in France, Canada & Japan amongst others.  We anticipate that the success of automated grocery during the lockdown will accelerate the shift towards online grocery shopping in years to come and we may see further announcements with new partners in due course as the technology goes global.
Our industrials holdings outperformed, led by Marel, an Icelandic  provider of automation equipment for the meat processing market.  Siemens performed strongly - management continues to take steps to streamline the business in an attempt to unlock shareholder value by optimising its assets – the latest announcement being the timeframe of the spinoff of its Energy business, following the successful listing of its healthcare business in 2018.
We started to increase some of our industrial holdings such as Fanuc, Siemens and Schneider Electric on signs of economic activity bottoming and beginning to recover.  We also increased our position in Axonics and Conmed, healthcare companies that have seen a material slowdown in business activity due to their exposure to surgeries which have been limited by the COVID outbreak.  We are seeing increasing signs that elective surgical procedures are starting to recover as economies gradually unlock.
We took some profits on our positions in Lumentum, a manufacturer of 3D sensors used for Augmented and Virtual Reality applications and Electronic Design Automation company Cadence.
Outlook
The full impact of the coronavirus remains to be seen, but central banks and governments took unprecedented action, early on to support the economy, with wide ranging stimulus measures announced in the majority of the major global economies.  At the same time, severe restrictions were put on the activities and movement of individuals in many countries in the world in an effort to contain the spread of the virus, that have had a sizeable impact on economic activity.  We are now seeing encouraging signs that the peak of the spread of the virus is behind us in some of the major European economies and as May progressed, the reopening process has started in a more meaningful way in a number of countries.
The disruption of global supply chains as a result of COVID-19 as well as the previous impacts of the US-China trade war is forcing companies to rethink their manufacturing footprints and their sourcing of crucial components.  Whilst it will take a huge amount of time to reconfigure global supply chains, we believe that marginal investments may well return to the US and Europe as a result of these issues, as well as the fact that the cost advantages of outsourcing manufacturing to developing nations continues to diminish each year.  Whilst we are not forecasting wholesale changes, incremental investments in nearshoring manufacturing will come with a higher degree of robotics and automation technology which we believe should provide a long term support to this theme. 
Whilst timing entry points during periods of volatility can be challenging, we remain constructive on the outlook for the robotics and automation industries.  We anticipate several major 5G smartphone launches which will require a significant CAPEX investment for their manufacturing.  It's important to note that the Consumer Electronics industry is now the largest buyer of Industrial robotics, over taking the Automotive industry a couple of years ago.  The last major smartphone CAPEX cycle was in 2017 and this benefitted a number of companies in a diverse set of end markets ranging from Vision Systems, to traditional Industrial Robots, to Laser Manufacturers.
No assurance can be given that the Robotech Strategy will be successful. Investors can lose some or all of their capital invested. The Robotech strategy is subject to risks including; Equity; Emerging markets; Investments in specific sectors or asset classes; Global investments; Investments in small and/or micro capitalisation universe; ESG.
Not for Retail distribution