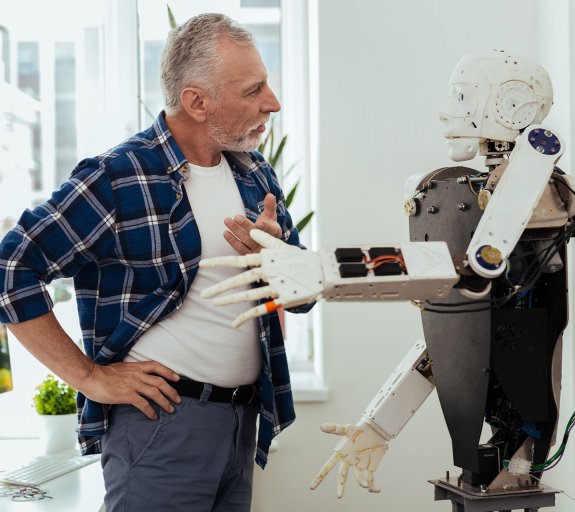 Robotech strategy: Corporate guidance are supporting our thesis that 2021 will be a year of recovery
08 March 2021 (3 min read)
---
Key points
We saw some rotation out of growth names in to some value-centric sectors
Encouraging corporate earnings results from the companies we invest in
Strong performance from automotive semiconductor suppliers
What's happening?
Equity markets rose in February 2021 (In USD terms), whilst the Robotech strategy underperformed the broader market. The roll out of COVID-19 vaccines continued during the month and despite the regional variations in pace of vaccinations, the market rose on optimism around the prospect for a global economic recovery and associated consumer spending.  Towards the end of the month, there was a rotation out of growth names in to some value-centric sectors such as energy and financials which performed better.
Generally, corporate earnings in the month and guidance for 2021 was encouraging from the companies we invest in, supporting our thesis that 2021 will be a year of recovery. 
Portfolio positioning and performance
In February, we saw strong performance from a number of our semiconductor companies, notably those with exposure to the automotive and industrial end markets such as On Semiconductor, NXP Semiconductor and Microchip.  Indeed, demand is so strong in some cases, particularly for automotive semiconductor suppliers, that there have been some component shortages which is helping create a favourable pricing environment for these companies.
Some of the Japanese automation holdings in the portfolio underperformed during the month, following a period of very strong performance.  The indications we see around industrial activity and order trends for the robotics industry are supportive for a healthy demand environment in 2021 for automation equipment, so we could consider further any weakness here as an opportunity to top up some existing holdings.
From a portfolio activity perspective, we continued to increased our position in British industrial software company AVEVA. We added to our position in Daifuku, a Japanese manufacturer of warehouse automation equipment, following some weakness in the share price.  We also added to positions in some of our semiconductor holdings including On Semiconductor, Qualcomm and Silicon Labs.
We exited our position in Nuvasive, a US healthcare company that has been developing a robot for spinal surgery, due to some product launch delays and also exited our position in Duerr, a German industrial company that manufacturers robots used primarily for painting vehicles, as we see better opportunities elsewhere to benefit from Automotive CAPEX1  trends over the next few years.
Outlook
Ecommerce has seen volumes rise significantly during the lockdowns and companies with a strong online presence have benefitted whereas companies that have been slower to adopt ecommerce have often struggled.  Whilst some of this current shift to ecommerce is temporary, we do believe that some spending habits will be permanently altered.  To support this shift towards ecommerce going forward, we anticipate major spending for logistics and fulfilment centres as companies need to reinforce their capabilities in this area. This increase in CAPEX1  will likely be beneficial to a wide range of automation suppliers.
An increasing number of 5G handsets are now being launched around the world.  This is supportive of automation equipment used to manufacture these 5G handsets (consumer electronics is one of the largest buyers of industrial robots) as well as a range of semiconductors that are used in 5G devices.  Looking forward further in to the future, the broader adoption of 5G will allow for enhanced connectivity and communications that we believe will spur the development of increasingly smart and automated factories as well as connected vehicles.
It is increasingly recognised that EVs are starting to get more interest from consumers as the costs of the vehicles come down, battery technology improves, and consumers focus on environmental trends.  What is perhaps less focussed on is the significant investment that is needed to manufacture these new Electric Vehicles and their batteries.  It is important to note that CAPEX decisions are being made currently for vehicles that will be produced in 12-24 months' time, so the prospects for companies supplying equipment such as industrial robots, lasers and vison systems is improving.
No assurance can be given that the Robotech Strategy will be successful. Investors can lose some or all of their capital invested. The Robotech strategy is subject to risks including; Equity; Emerging markets; Investments in specific sectors or asset classes; Global investments; Investments in small and/or micro capitalisation universe; ESG.
Q0FQRVg6IENhcGl0YWwgRXhwZW5kaXR1cmU=
Q0FQRVg6IENhcGl0YWwgRXhwZW5kaXR1cmU=
Not for Retail distribution