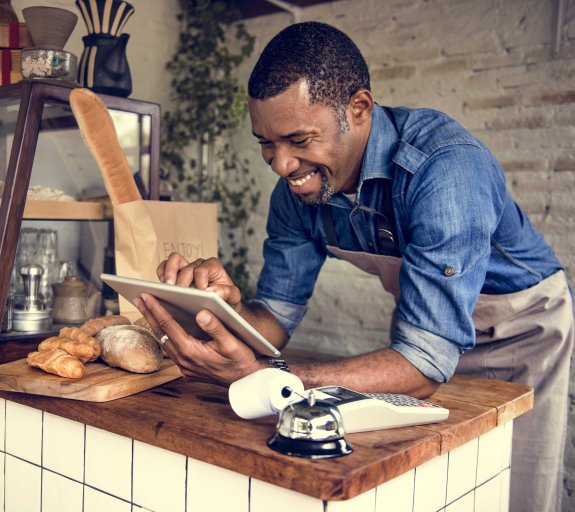 FinTech Strategy: Payment stocks exposed to the re-opening outperform pure "stay-at-home" stocks
08 March 2021 (3 min read)
---
Key points
Tug-of-war between favorable economic re-opening newsflow and steepening yield curves
Vaccination campaigns accelerated, supporting the idea that the global economy should gradually re-open over the course of 2021
Results season, most fintech companies beat already high expectations
What's happening?
The tug-of-war between favorable economic re-opening newsflow and steepening yield curves continued to drive global equity markets in February.
Global Covid-19 trends improved slightly in February in most countries, with the notable exception of Europe where new cases drifted higher (ex-UK), leading to further mobility restrictions. Vaccination campaigns accelerated in in the US and in the UK, supporting the idea that the global economy should gradually re-open over the course of 2021. In the meantime, economic activity continued to demonstrate a high degree of resilience globally. As a result of the improved economic outlook, inflation expectations increased significantly in February, shining a threatening light on extended global equity valuations. Very mindful of this potential threat to market stability, the US Federal reserve as well as the ECB both clearly indicated that they would maintain a very accommodative stance for the foreseeable future, thereby providing significant support to global equity markets.
Portfolio positioning and performance
The FinTech fund out-performed its performance benchmark in February. The main contributors to this positive performance were payment stocks that stand to benefit from a gradual re-opening of the economy, namely American Express, Global Payments, Fidelity National Info Service, Shift4Payments and StoneCo. As mentioned in last month's report, the medium-term outlook for these businesses remains excellent.
Among the main negative contributors were Envestnet (ramp up of investments to take advantage of current market opportunities), Lufax Holdings (tighter Chinese regulation), Q2 holdings, Verisk and Experian (all strong but defensive businesses less directly exposed to an economic up-tick).*
In February we did not make any significant changes to the strategy. 
* Stock shown for illustrative purposes only and should not be considered as advice or a recommendation for an investment strategy.
Outlook
Covid-19 proved to be a significant tailwind for the fintech universe and investor interest in the space is close to an all-time high. The results' season has continued to deliver strong results, with most of the companies active in the fintech universe beating already high expectations. Payment stocks particularly exposed to the re-opening of the economy, such as Amex, WEX or Shift4Payments, that derive a significant part of their revenues from business or retail travel and lodging payment flows, are starting to outperform pure "stay-at-home" stocks. 
Overall, we believe that the Fintech strategy is well positioned for the post Covid-19 world, with a strong focus on structurally growing businesses with solid balance sheets. The Fintech businesses the strategy invests in are through-the-cycle growers. They will undoubtedly represent a larger part of the global economy in 5 years, even more so in 10 years.
No assurance can be given that the FinTech Strategy will be successful. Investors can lose some or all of their capital invested. The FinTech strategy is subject to risks including Equity; Emerging Markets; Global Investments; Investments in small and/or micro capitalisation universe; Investments in specific sectors or asset classes; ESG.
Not for Retail distribution