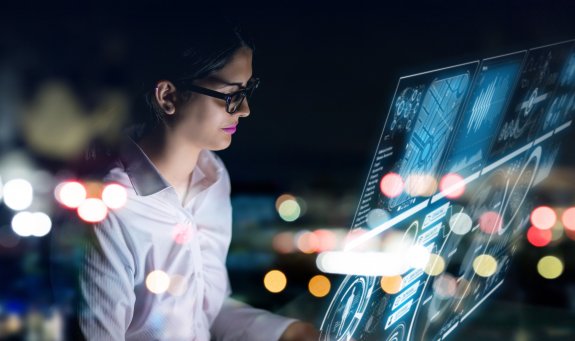 Digital Economy strategy - October 2021
04 November 2021 (5 min read)
---
Global equity markets recovered from the September selloff, driven by a robust earnings season
Q3 2021 earnings season: companies within the portfolio are reporting encouraging results
The 'Data & Enablers' theme contributed most to performance
Strong performance from software companies and logistics real estate
What's happening?
Global equity markets recovered from the September selloff, with the MSCI All Country World index gaining 5.1%1 .  The broader market gains were mostly driven by a robust earnings season and improved market sentiment. In the US, President Biden announced the framework of a $1.752 trillion social-spending bill, with tax plans viewed more favourably by the market than previously announced proposals. Europe performed well, supported by the Central bank's decision to keep an accommodative policy stance and solid earnings results. In Asia, markets recovered losses recorded at the beginning of the month as a containment of the situation in China's real estate sector lifted sentiment.
From a market perspective, earnings season for the third quarter has now commenced and so far, the reports have been encouraging with regards to business trends that our investments are seeing.
Portfolio positioning and performance
During October, our exposure to the 'Data & Enablers' theme contributed most to performance. We saw strength from global provider of software, services and hardware devices Microsoft, after reporting results and guidance ahead of expectations. Cloud-based Information Technology Operations Management (ITOM) software player ServiceNow also performed well after reporting strong results and highlighted an acceleration of the pace of digital investment from customers across geographies.
Within the 'Delivery' theme, we saw good performance from logistics real estate providers Prologis who reported better than expected results and raised guidance for the year, the company highlighted that strong demand has pushed vacancies at a record low.
Within the 'Discovery' theme, we saw good performance from cloud-based provider of sales and marketing software HubSpot after announcing at its investor day the launch of new payments solutions which should help improve the customer experience. This strong performance was offset by social media company Snap Inc. who has seen a higher than expected impact from Apple's advertising tracking changes and supply chain pressure affecting advertising budgets. We heard similar issues from other digital advertising players such as Facebook and we are monitoring the situation, but we believe that those issues are transitory and the underlying trends are intact.
We saw weaker performance from the payment companies as concerns around reopening trends continue, we think the secular growth tailwinds from these companies are unchanged and would use the weakness in share prices as an opportunity to add to our holdings.
There was relatively little activity during the month, however, we have taken advantage of some stock specific news to reallocate our investments where appropriate.
Outlook
As we emerge from the Covid19 pandemic, we are aware that equity markets may continue to be volatile and this could be the case for a while until we get better insight with regards to the recovery of the global economy. We continue to believe that the opportunities driven by the long-term themes within the strategy remain intact and our focus on identifying well managed businesses, with proven operating models and large opportunities still to address is the right approach to investing in the long-term growth opportunities present within the Digital Economy.
Whilst many aspects of the Digital Economy delivered expansion during the Covid19 outbreak, we are cognisant that questions will be raised about the future likelihood of growth as the world returns to some level of normality.  We are also aware that companies are currently facing challenges such as supply chain disruptions, labour shortages and inflationary pressures. However, we believe that many of our investments are in companies that will continue to flourish over the coming years despite near term headwinds and so we look to use any weakness in share prices as an opportunity to add to our holdings.
The digital evolution is not an overnight coup, whilst some decisions had to be made in a hurried fashion last year in order to ensure that businesses could remain operational during an unexpected event there are also many opportunities that will develop over time as companies seek to put in place the systems and technology to enable business continuity if a similar event ever happens again.
The strategy remains well positioned to benefit from the trends associated with the digital economy theme, such as digital media consumption, online commerce and digital transformation.
IFNvdXJjZTogQmxvb21iZXJnIGFzIG9mIDMxLzEwLzIwMjE=
U291cmNlOiBVUyBwcmVzaWRlbnQgcHJlc3MgYW5ub3VuY2VtZW50LCAyOC8xMC8yMDIx