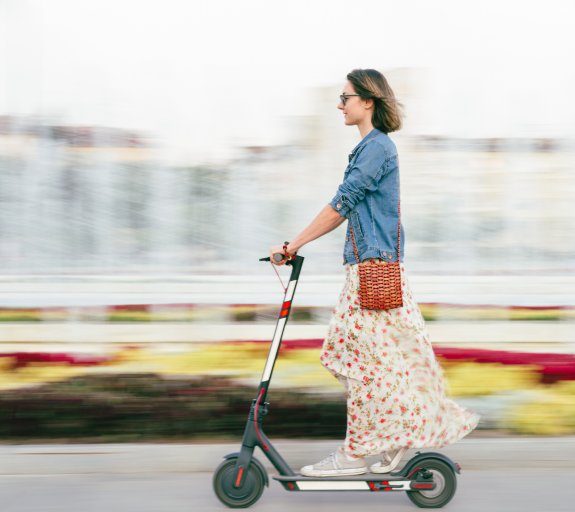 Clean Economy strategy: China has recently made a commitment to net zero by 2060, a significant move which came sooner than many expected
16 November 2020 (5 min read)
---
Key points
Global equity markets declined during October
Performance led by our 'Smart Energy' and 'Natural Resource Preservation' themes
We increased exposure to Orsted and Trimble
---
What's happening?
Global equity markets declined during October, in response to a resurgence of COVID-19 in Europe and the US and the return of lockdowns across Europe. Uncertainty around the US Presidential election also weighed on sentiment. By contrast, the virus appears broadly under control in Asia where growth remains evident. Growth has continued to outperform Value during the month, and investors continue to reward those sectors which appear to benefit from either secular growth.
Within Low carbon Transport, the electrification of vehicle sales continues, led by Europe where new energy vehicle penetration of new car sales year to date has more than doubled compared to 20191 . We remain optimistic for the ongoing electrification of the vehicle fleet, supported by new model launches from the second half of 2020 and continued innovation in the battery space.
For Smart Energy, we note the resilience of investment in the Energy Transition. Large corporates are becoming increasingly vocal about their commitment to sustainable growth underpinned by Net Zero targets, which will be achieved through a combination of energy efficiency, renewable energy and its supporting infrastructure. Whilst consumers and corporates increasingly drive the Energy transition, policy support remains helpful. Indeed, during October, the EU parliament voted to increase its 2030 climate target from a 40% reduction in greenhouse gas emissions to a 60% reduction2 , a move which will require a material acceleration of investment in clean technologies.
In the Agriculture and Food Industry, demand for precision agriculture technology is resilient despite near term disruption to agricultural markets, as customers focus on efficiency gains and yield improvements. The shift towards a more plant-based diet continues in the developed world, illustrated by growth in demand for meat alternatives such as Beyond Meat products which has largely increased volumes year-over-year. 
In Natural Resource preservation, we continue to see a sustained recovery in commercial recycling volumes as developed market economies gradually re-open.
Portfolio positioning and performance
The Clean Tech strategy outperformed the broader equity market (MSCI All Country World) during October, with positive contribution coming from Smart Energy and Natural Resource Preservation.
In 'Smart Energy', outperformance was broad based. Holdings in renewables companies First Solar, TPI Composites and Siemens Gamesa have all demonstrated strong execution and backlogs in their respective areas of leadership (niche decarbonisation projects, utility scale solar and offshore wind). NextEra, a clean utility, also outperformed following strong earnings. Energy efficiency specialist is benefitting from the ongoing drive for cost savings – and therefore energy savings – among both municipal customers and commercial real estate managers.
In 'Natural Resource Preservation', Darling Ingredients outperformed as expectations for the renewable diesel business, which recycles animal processing waste and used cooking oil,  improve. Itron, which provides smart metering and grid reliability enhancement, also contributed outperformance as it recovered some of its earlier weakness and the market responded well to new cost cutting initiatives.
During October, we made a number of small adjustments to weights in the portfolio, with notable changes including increased exposure to Orsted and Trimble, funded by a reduced position in Johnson Matthey.
Outlook
The EU and its member states have underlined their commitment to Net Zero 2050 and set the framework for a green recovery in Europe. China has recently made a commitment to net zero by 2060, a significant move which came sooner than many expected. Corporates are also increasingly committed to Net Zero targets and are investing accordingly. In addition to existing consumer trends and cost-effective technologies, this represents accelerated opportunity for the Clean Economy.
We retain the view that high quality management teams, operating businesses with a sustainable competitive advantage in their markets and with the benefit of secular tailwinds are best placed to weather the current storm and to seize opportunities for growth. The portfolio is therefore well positioned to benefit from the secular growth opportunities we see within the Clean Economy.
No assurance can be given that the Clean Economy strategy will be successful. Investors can lose some or all of their capital invested. The Clean Economy is subject to risks including Equity; Emerging Markets; Global Investments; Investments in small and micro capitalisation universe; Investments in specific sectors or asset classes.
Q2xlYW4gVGVjaG5pY2Eg4oCTIEp1bmUgMjAyMA==
RXVyb3BlYW4gUGFybGlhbWVudCBuZXdzLCBwcmVzcyByZWxlYXNlcywgMDgvMTAvMjAyMA==
Not for Retail distribution