The return of the Quantitative Easing trade
12 June 2020 (5 min read)
---
Inflation linked bonds have performed well during the years of Quantitative Easing.
Such programs are being restarted with an aggressive design. We expect inflation linked bonds to be well supported.
Inflation linked bonds are sovereign bonds
In times of uncertainty, investors look for defensive assets. Inflation linked bonds are mostly issued by sovereigns and more so by highly rated ones.
This can give investors a good level of comfort on the issuers' solvency. On top of that, most inflation linked bonds find liquidity support as they are included in quantitative easing packages
Real interest rates have increased and are now at attractive levels.
Inflation linked bonds have been sold by short term focused investors looking to liquidate assets to face margin calls or to free up some cash.
The recent increase in real interest rates is an opportunity in our view.  Historically, one of the main effects of quantitative easing programs has been to push real yields lower supporting inflation linked bonds valuations.
The charts below show that real interest rates are too high compared to the expectations of prolonged easy monetary policy.
Image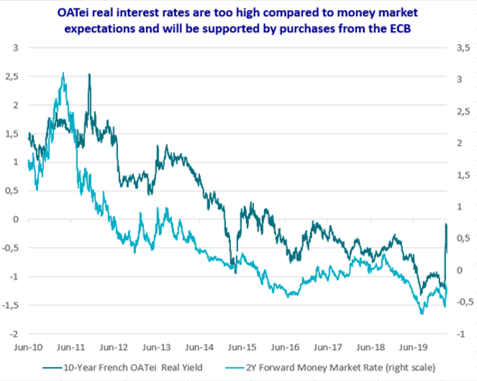 Image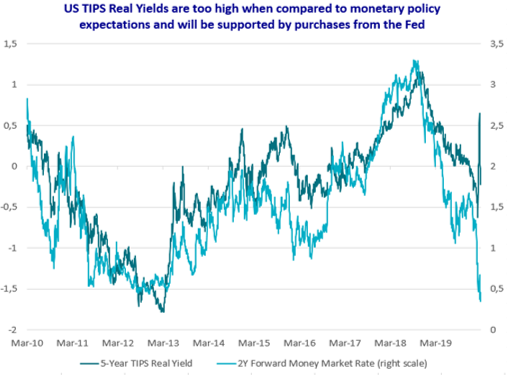 Source : Bloomberg, as of March 2020
Inflation expectations have weakened
Inflation expectations are depressed as a result of the drop in oil prices and the expectations of much slower economic growth going forward.
While it is reasonable to expect inflation to be close to 0% in 2020, the combined impact of the biggest globally coordinated monetary easing and monetary-financed budget stimulus on inflation remains to be seen. The economic recovery that will eventually follow, may see some significant inflationary pressures as it was the case after the Great Recession of 2008 or the Fukushima disaster.
In any case, market might have to price-in higher inflation to a certain extent, and current market levels look too depressed in our opinion from this perspective.
Image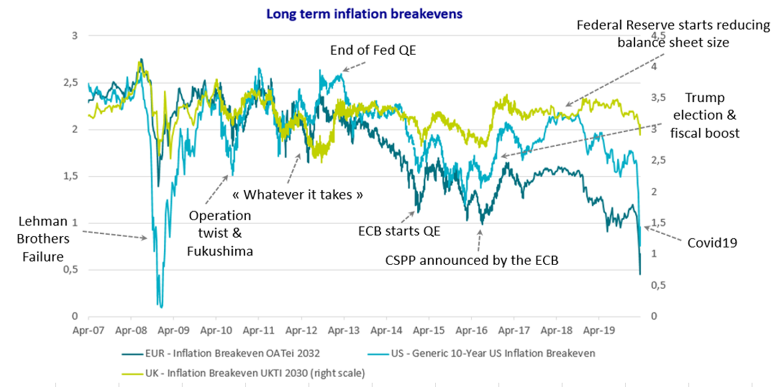 Source : Bloomberg, as of March 2020
Oil prices have crashed, impact on inflation will be a one-off effect and further downside risks are limited.
The aggressive strategy currently being followed by Saudi Arabia, aims at regaining market share. It has impacted oil prices very negatively and this will make the inflation picture look worse in the near term.
Food and energy prices, while the largest contributors to inflation volatility only contribute marginally to the actual level of inflation. In short, oil prices move is a noise and a large share of the move lower in oil prices is already priced-in.
In conclusion, we believe that in an environment where Central Banks are printing money to finance budget spending, sovereign bonds linked to inflation are becoming attractive again. We expect to continue to see real interest rates decreasing.
Have our latest insights delivered straight to your inbox
SUBSCRIBE NOW
Not for Retail distribution