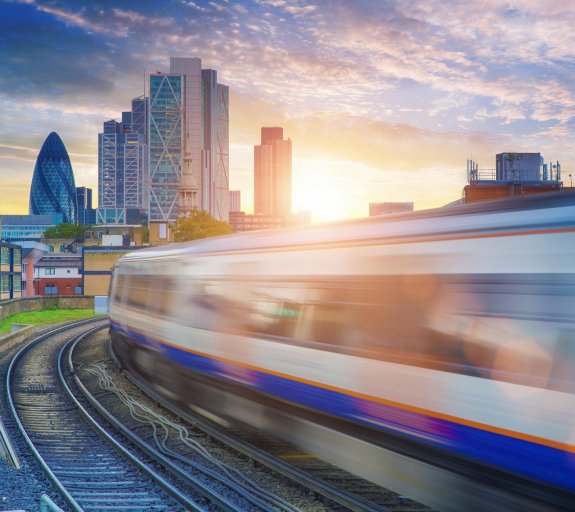 UK Economic Outlook for 2021: Don't look down
12 January 2021 (5 min read)
---
While a year "of two halves" is one of the more hackneyed economic outlooks, rarely has it felt more appropriate. The start of 2021 will prove challenging for the UK. A resurgence in COVID-19 and Brexit costs will dominate the first half – with a double-dip recession looking likely. But the prospect of a swift vaccine roll-out and diminishing transition trade effects should fuel stronger growth from mid-year. Fiscal policy looks likely to remain committed to underpinning the labour market while COVID restrictions remain essential. And the Bank of England looks likely to be required to deliver another bout of monetary easing. We forecast UK growth of 3.5% in 2021 but see growth in H2 far outstripping H1 – leading to an even faster 7.5% rise in 2022. For economy watchers, policy makers and financial markets, 2021 is likely to be a case of keeping eyes on the horizon and not looking down in the early months of this year.
The UK has been unlucky enough to play host to a variant strain of COVID-19, that appears more contagious than the original1 . All nations of the UK have returned to a full national lockdown, with schools closed, something that will not be reviewed until mid-February. This will weigh on UK GDP growth in Q1 and we now expect a second successive contraction in Q1, estimating -3.5% on the quarter, resulting in a double-dip recession. However, the UK has recently approved a second vaccine and has administered over 1m doses already, exceeding most peers as a proportion of population. With the UK aiming to deliver 2m doses per week and 13m by mid-February, it should be on track to achieve full herd immunity in H2 2021. Even before then, inoculating the most vulnerable first should ease the need for stringent restrictions as we move into the Spring and could deliver a vaccine-rebound in GDP from Q2.    
The UK also left the EU in 2020, legally after January, in practice after December. This will raise long-term costs for the UK as trade barriers with its largest trade partner rise, even after the Trade and Co-operation Agreement trade deal was reached on Christmas Eve, with estimates of an impact of between 4-5ppt2  of GDP over the longer-term. We also expect short-term disruptions and unwinding of inventory accumulation to visibly impact growth in H1 2021. These effects should fade in H2, particularly if the UK resumes usual trade monitoring of EU imports after a 6-month waiver.
These two impulses, particularly the former, are likely to dominate the shape of UK progress as the economy emerges from what looks likely to have been the sharpest contraction in three centuries. Yet unprecedented economic support has held back the worst economic consequences of this loss of output. Unemployment rose to 4.9% in the three months to October – a 4-year high, but far below previous peaks. We expect fiscal policy and particularly the government's furlough scheme to remain in place until the need for restrictions has passed – with the Chancellor likely avoiding the announcement of any significant revenue raising measures in March's Budget. While unemployment is likely to jump as the furlough scheme ends – we estimate to around 7.5% by mid-year – the post-vaccine removal of restrictions and faster economic growth we expect in H2 should result in significant job creation, reducing unemployment sharply. And beginning to end the sharp drain on the public coffers.   
Nevertheless, we do expect the UK growth rebound to lag international peers and deliver just 3.5% this year, below the consensus 5.3% outlook before posting a faster rebound next year. This would be far below the Bank of England's (BoE) 7.25% forecast. We believe a downgrade of this forecast over the coming months will result in the BoE bolstering monetary policy stimulus, now most likely at its next meeting in February. Still, with the Bank also focused on the prospect of a sharp vaccine led-rebound, we think it will avoid adopting controversial negative interest rates and instead opt to extend its QE purchases into 2022, with a £75bn increase in asset purchases.
In all, the vaccine's long-term solution to the pandemic and ongoing policy stimulus should result in robust growth rates beginning to emerge in the second half of this year. Financial markets are likely to focus on these medium-term prospects for UK activity. However, the coming few months will be extremely challenging for the UK and markets will have to be careful not to look down.     
SW1wZXJpYWwgY29sbGVnZSBlc3RpbWF0ZXMgdGhhdCBpdCBhZGRzIGJldHdlZW4gMC40LTAuNyB0byB0aGUgUiBudW1iZXIsIDMxIERlYyAyMDIwLg==
TSBUcmVhc3VyeSwgT2ZmaWNlIGZvciBCdWRnZXQgUmVzcG9uc2liaWxpdHkgYW5kIHRoZSBVSyBUcmFkZSBQb2xpY3kgT2JzZXJ2YXRvcnksIDIwMTgtMjAyMC4=
Have our latest insights delivered straight to your inbox
SUBSCRIBE NOW
Not for Retail distribution