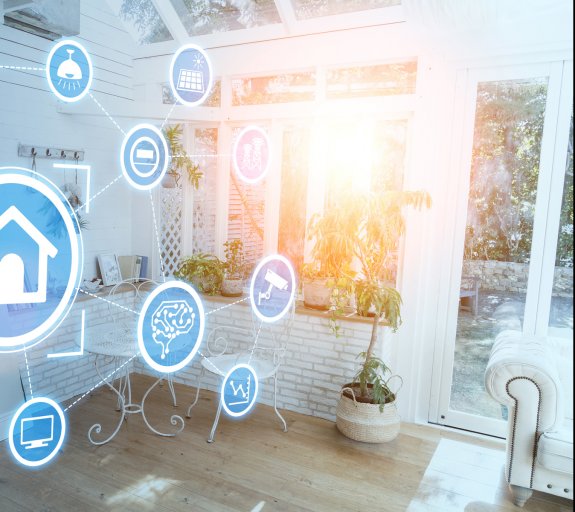 Robotics in home automation
02 March 2021 (3 min read)
---
Summary
As technology has advanced over the years, so too has consumer demand for smart home devices, for convenient living and reduced energy consumption. This includes voice activation, smart sensors, wearables and smart lighting.
Stock examples
NXP
Company description: NXP is a US-Dutch semiconductor manufacturer – its solutions help create secure, connected ecosystems for the home, driving internet of things and smart devices from the cloud to the edge.
Did you know: NXP has supported the development of Amazon Alexa, allowing a simpler development path for connecting and integrating Alexa into smart products in the home.
Silicon Labs
Company description: A US semiconductor company that provides solutions for smart home devices and gateways to developers. The firm primarily provides solutions for door locks, LED bulbs, switches and sensors.
Did you know: Silicon Labs offers decades of wireless experience backed by more than a billion internet of things chips shipped and deployed.
The investment case
The internet of things is witnessing large-scale realisation: by 2025, people will interact with an online device every 18 seconds (vs. 6.5 minutes today), with 500 billion connectable devices estimated by 2030 (vs. 30 billion today).1 There remains huge potential for further adoption of internet of things applications, with Bain & Company anticipating a global spend of $520 billion by 2021.2 As new technological innovations emerge and consumers continually strive for convenience, we believe the smart home automation market will see further growth in the years to come.
Sources: All stocks mentioned are for illustrative purposes only and should not be considered as advice or a recommendation for an investment strategy.
VGhlIDEwIHRyZW5kcyB0aGF0IHdpbGwgc2hhcGUgdGhlIGdsb2JhbCBlY29ub215IG92ZXIgdGhlIG5leHQgZGVjYWRlLCBJbnZlc3RvcGVkaWE=
VW5sb2NraW5nIG9wcG9ydHVuaXRpZXMgaW4gdGhlIGludGVybmV0IG9mIHRoaW5ncywgQmFpbiAmYW1wOyBDb21wYW55LCAyMDE4
Have our latest insights delivered straight to your inbox
SUBSCRIBE NOW
Not for Retail distribution