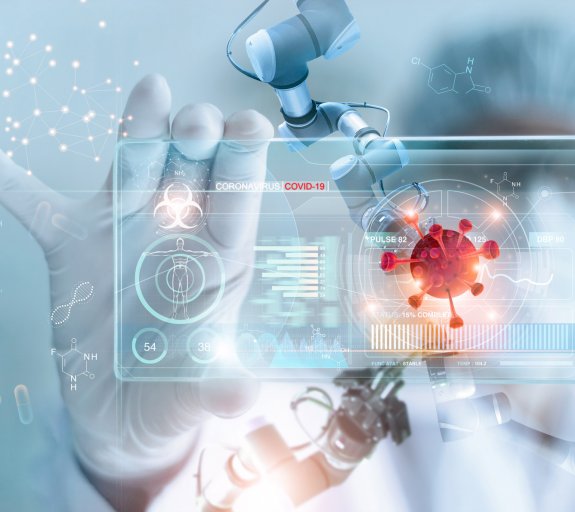 15 February 2021 (3 min read)
---
Summary
Robotic surgery has been around since the 1980s, with benefits that include enhanced dexterity, greater precision and control, lower infection rates and quicker recovery / shorter hospital stays. Advancements in technology and the medical field mean that robots can now assist in a variety of procedures, from general surgery to delicate operations (e.g. taking out brain tumours, heart and spine surgery, joint replacements etc.)
Stock examples
Intuitive Surgical
Company description: A leading provider of robotic surgery equipment.
Did you know: Intuitive Surgical's robots performed 1.2 million surgical procedures in 2019, with this figure growing at around 15-20% per year.1
Zimmer Biomet
Company description: A US healthcare company that focuses on knee surgery.
Did you know: The global share of older people (60+) will increase by 42% from 2018 to 2030 – five times faster than the under 60 population.2
Knee joints run the risk of becoming worn or damaged over time, while much of the older generation now live more active lifestyles. This means more and more people may find they need knee surgery in their later years.
The investment case
Only 2% of surgery globally is currently done with robots. Most of this is in the US, but there is huge potential for geographic expansion in the coming years. Furthermore, medical robot sales are expected to achieve a CAGR of 30% between 2019 and 2023.3 Furthermore, there remains potential for an increase in the types of application; for example, the removal of tumours from parts of the body that would otherwise be difficult to reach.
Sources: All stocks mentioned are for illustrative purposes only and should not be considered as advice or a recommendation for an investment strategy.
SW50dWl0aXZlIFN1cmdpY2FsLCBhcyBhdCAzMSBEZWNlbWJlciAyMDE5
Qm9mQU1MIFNpbHZlciBEb2xsYXIgLyBMb25nZXZpdHkgcmVwb3J0IGZyb20gTWF5IDIwMTY=
SW50ZXJuYXRpb25hbCBGZWRlcmF0aW9uIG9mIFJvYm90aWNzIDIwMjA=
Have our latest insights delivered straight to your inbox
SUBSCRIBE NOW
Not for Retail distribution