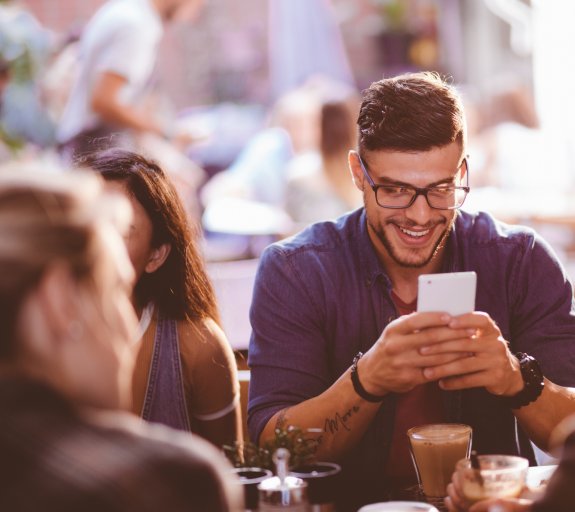 How do dating apps make money?
12 February 2020 (10 min read)
---
Romance is increasingly being disrupted by tech
Tinder, owned by IAC, now sees 2bn swipes a day
Online dating is big business in today's digital economy
What long-term trend are we observing?
Online dating is now widely, and increasingly, accessible thanks to the adoption of smartphones, and those in the market for romance can now easily search for potential partners using a variety of criteria. Popular dating app Tinder now sees 2bn swipes a day, resulting in 1m dates a week1 , which is likely to pick up around key holidays like Valentine's Day. In fact, one-third of all relationships now begin on a dating app2 .
Online dating is also big business – Tinder is now the 2nd highest-ranking app by worldwide consumer spend in the iOS App Store and Google Play, after Netflix3 .
How do dating apps make their money?
Most dating apps are free to download, but then users must pay to unlock extra features, such as Tinder's $14.99 'Gold' subscription which lets users see who has 'liked' them first. Apps also generate cash through in-app advertising, offering bars, restaurants and other businesses a captive audience of consumers looking for fun date activities.
IAC/InterActiveCorp, which owns a substantial stake in Match Group, owns and operates more than 45 subscription-based online dating services, including three of the four highest-earning dating apps4 ; Tinder, match.com and PlentyOfFish.
By owning multiple brands catering to different needs, Match Group provides a breadth and purity of exposure to the modern dating economy. Indeed in Q3 2018, Match Group's total revenue grew 29% year-on-year to $444m, driven by a 23% rise in paid subscribers5 .
Outlook
These data points underscore the long-term theme we see of people using connected devices to find quick and easy solutions to age-old problems. This requires businesses to increasingly use data to understand their customers and customise their digital offering. The trend also vindicates our approach of investing in companies operating across the digital economy.
Please note that all stocks and companies mentioned are for illustrative purposes only and should not be considered an investment recommendation.
All investment involves risks, including the loss of capital.
d3d3LmdvdGluZGVyLmNvbS9wcmVzcw==
d3d3LmlhYy5jb20vYnJhbmQvbWF0Y2gtZ3JvdXA=
QXBwIGRldmVsb3BlciBtYWdhemluZSwg4oCYVGhpcyBpcyBob3cgbXVjaCBkYXRpbmcgYXBwcyBtYWtlIGV2ZXJ5IG1pbnV0ZeKAmSwgNi4xMi4xNw==
QXBwIGRldmVsb3BlciBtYWdhemluZSwg4oCYVGhpcyBpcyBob3cgbXVjaCBkYXRpbmcgYXBwcyBtYWtlIGV2ZXJ5IG1pbnV0ZeKAmSwgNi4xMi4xNw==
TWF0Y2ggZ3JvdXAsIEludmVzdG9yIHByZXNlbnRhdGlvbiwgNi4xMS4xOA==
Have our latest insights delivered straight to your inbox
SUBSCRIBE NOW
Not for Retail distribution: