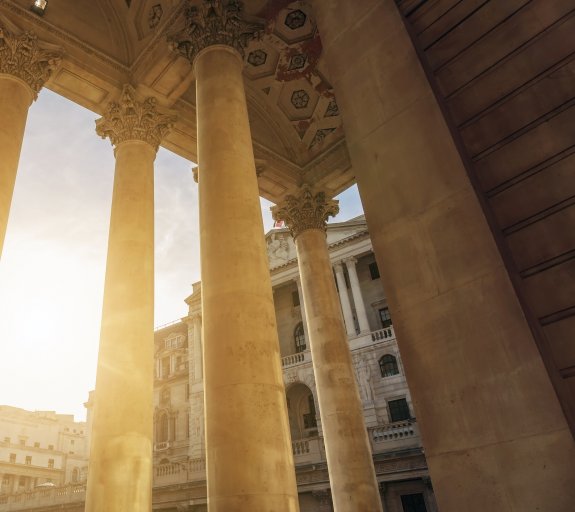 15 December 2020 (7 min read)
---
Macroeconomic and equity market backdrop
Near-term vaccine euphoria: Vaccine announcements by a number of drug companies in November led to a classic relief rally, with a rotation away from stocks with high earnings quality (which had led the market rally since its March low) and into lower quality and deep value stocks. The best performing areas of the market were those that have been most impacted by lockdowns (travel, hospitality and retail) as investors swiftly priced in a better outlook for earnings. The rotation from 'high quality-low risk' to 'low quality-high risk' witnessed in November was the largest since the recovery from the financial crisis low in March 2009.
Economic headwinds persist: The road to global recovery from the pandemic will take time. Infection rates remain high in the US and Europe, and ongoing restrictions and lockdowns continue to supress economic activity. Given the time required for an immunisation programme, we do not expect the good news on a vaccine to alter the trajectory of GDP growth in most developed nations before mid-2021.
Stimulus and market leadership: We expect central banks to maintain easy monetary policy for the foreseeable future. However, as we move through 2021 and into 2022, the role of fiscal stimulus should shift from recession mitigation to growth generation across a broad range of economic segments. Such an environment  should improve equity market breadth, supporting a wider group of stocks and investment styles than in 2020, where returns have been dominated by a narrow band of mega cap growth stocks.
With the above macro and market conditions as context, we update our outlook for equity market factors below.
Outlook for equity factors
Image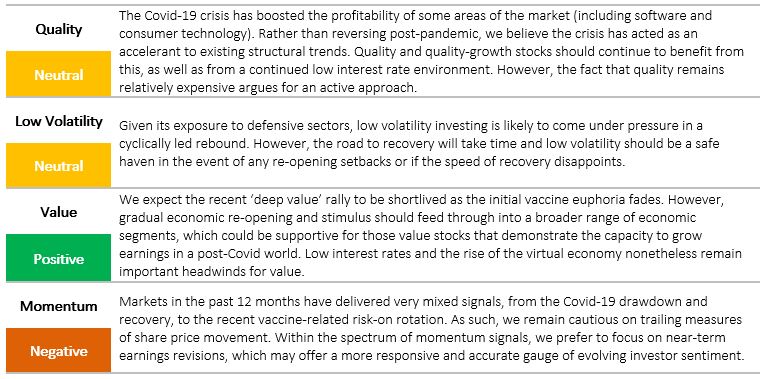 Source: Rosenberg Equities, 9 December 2020. The views expressed above are as of the date of this document. No guarantee or warranty is made regarding the outlook above. Investors should not base their investment decisions on the commentary provided and should consult their advisers before doing so.
Image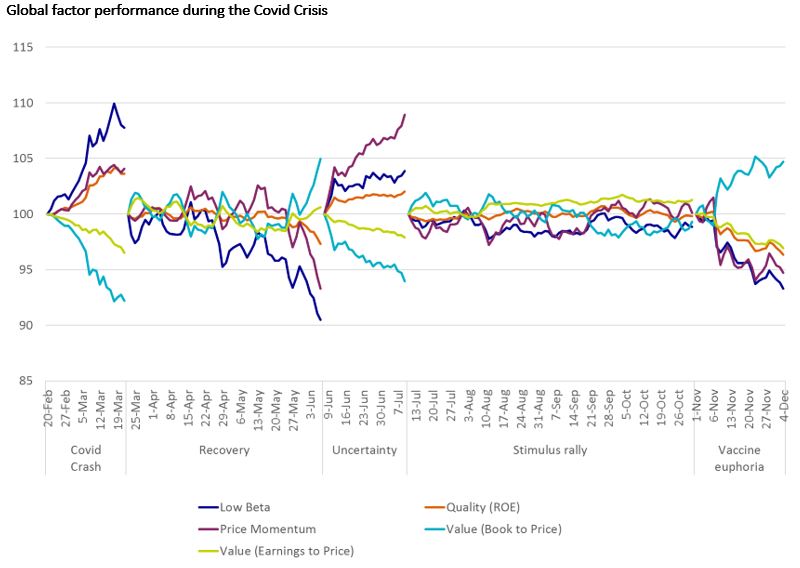 Source: Rosenberg Equities. Factor returns data presented as of December 7th 2020. The chart plots univariate factor returns calculated by Rosenberg Equities based on MSCI World investment universe. The data are shown for illustrative purposes only and are not based on actual portfolio returns. Past performance is not a guide to future performance.
Have our latest insights delivered straight to your inbox
SUBSCRIBE NOW
Not for Retail distribution