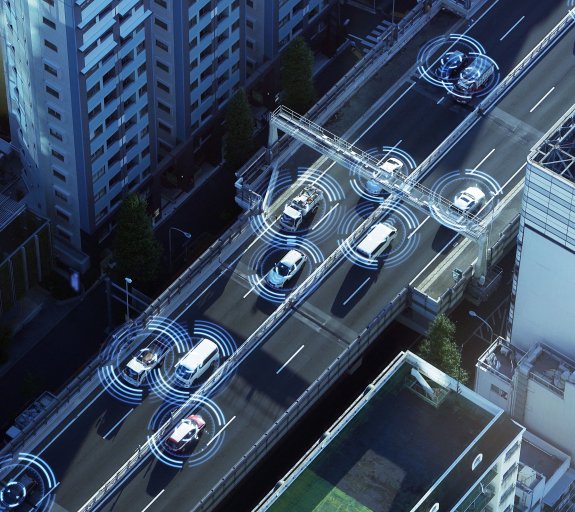 Five unexpected stocks driving the automotive industry
18 June 2018 (7 min read)
---
he automotive industry is rapidly changing thanks to technological improvements and environmental awareness
Traditional manufacturers and suppliers are being disrupted, meaning equity investors need a fresh perspective on what actually constitutes an 'automotive' company
Framlington Equities sees many changes across the automotive ecosystem, particularly electric vehicles, autonomous vehicles and mobility sharing
The automotive industry is rapidly evolving from a select group of manufacturers to a broad ecosystem of innovative companies and technologies as electric, autonomous and intelligent cars become a reality. As this universe expands, the Framlington Equities thematic investment team at AXA Investment Managers sees companies operating in a number of areas, beyond traditional manufacturers and parts makers.
The team gives their view on five unexpected companies that are in the driving seat of tomorrow's automotive industry.
How does the automotive industry work?
A typical car can have roughly 30,000 parts [Toyota], requiring the input of many companies which can broadly be categorised into three main areas:
Original Equipment Manufacturers (OEMs): Large, traditional manufacturers such as Toyota or General Motors, which design, assemble and sell new vehicles.
Tier 1 suppliers: Companies which supply systems (such as anti-lock braking systems or interior electronics) to the OEMs to use in cars. Examples include Valeo or Continental.
Tier 2 suppliers: Specialist companies that supply components such as semiconductors and sensors to Tier 1 suppliers to use in their systems.
Aptiv
Aptiv is a Tier 1 supplier that makes electronics and intelligence systems for vehicles, particularly advanced driver-assistance systems (ADAS) which are designed to help people drive more safely. The company was split in December 2017 from Delphi Automotive: Aptiv focusses on independent and intelligence driving technologies, while the re-named Delphi Technologies concentrates on the company's legacy business related to the traditional internal combustion and diesel technologies which are in perpetual decline.
Tom Riley, Robotech fund manager at AXA Investment Managers, says: "Aptiv and their customers are seeing increasing regulatory demand for driver assistance functions in the name of safety", while Amanda O'Toole, CleanTech research lead says: "As traditional manufacturers lose market share to hybrid and fully electric vehicles (EVs), Aptiv has a good product suite to offer manufacturers alternative systems to those historically used in petrol and diesel vehicles."
Infineon
Moving down the supply chain, Infineon is a Tier 2 semiconductor company which makes 'power' semiconductors – i.e. chips which can switch or control power within complex systems. Riley says that "Infineon has a market-leading position in self-driving and factory automation systems, and has a relatively high 'purity' of exposure to the automation theme – it generates the majority of its revenues from automotive and industrial applications"*
Panasonic
Panasonic has gradually refocused its business in recent years, moving from purely consumer electronics to become one of the world's largest suppliers of high-end batteries for plug-in hybrid and electric vehicle manufacturers.
The company partnered with Tesla to create its $5bn Gigafactory and supplies batteries for Tesla's model S, 3 and X, and has also recently announced a collaboration between with Toyota to develop new prismatic batteries, which are smaller and lighter than traditional batteries, for electric vehicles.
"Panasonic's long history in consumer electronics, combined with its more recent collaborations with EV manufacturers, is helping the company develop advanced driver assistance systems and the in-vehicle infotainment market" comments O'Toole.
Twilio
The rise of the 'sharing economy' has also challenged conventional models of car ownership, particularly among younger people and urban populations for whom the costs of owning and maintaining a personal vehicle may be prohibitively expensive. Ride-hailing or car-sharing apps have grown in popularity thanks to convenient mobile apps, but this requires a huge amount of technology investment.
"While many companies operating in the sharing economy aren't investable through public markets today, there are many ways that investors can be exposed to the changing model of how companies reach their customers", says Jeremy Gleeson, Digital Economy fund manager at AXA IM.
Twilio is just one of many companies which enable other digital firms to do business, offering cloud communications systems that help ride-hailing apps like Uber connect their fleet of drivers with customers asking to be picked up.
Alphabet
Gleeson also looks at established technology companies which are leading the development of autonomous vehicles, such as Waymo, the self-driving car division of Alphabet (Google's holding company). Since 2009, Waymo's fleet of autonomous cars have driven more than five million miles mostly on complex city streets in the US, on top of 2.7 billion simulated miles driven in 2017 alone.  And, with each mile, the firm collects more data and experience, enabling it to continue to learn and improve the driving process.
"While we're unlikely to see driverless cars become an everyday feature of our roads in the coming years, the information which Alphabet is gathering is immensely useful to better understand not only how these technologies work in the real world, but also how consumers engage with them."
The company also collaborates with existing OEMs like Fiat Chrysler to create vehicles, and announced in March 2018 that it would partner with Jaguar Land Rover to introduce a fleet of 20,000 electric cars as part of a trial ride-hailing service in the US.
What's the outlook for the automotive industry?
While there's a great deal of excitement for the future of autonomous vehicles, it's difficult to predict how soon fully-autonomous vehicles could be adopted, according to Riley: "There are lots of barriers to mass adoption, particularly when it comes to building the credibility and trust for consumers to be comfortable letting an intelligent system take the wheel."
Rather, Riley sees tech becoming incrementally more integrated in vehicles which will make driving safer: "The potential for safer cars offers three key supports for the automotive universe: consumers tend to rank safety as a key criteria when purchasing a vehicle alongside brand and colour; regulatory and consumer bodies like NCAP are increasingly insisting on ADAS systems for cars to be eligible for the highest safety ratings; and car manufacturers themselves are inherently motivated to provide safer vehicles for their customers."
*Infineon generated 61% of its revenues in Q2 2018 from automotive or industrial power control and holds a #1 market position for power systems and a #2 market position for automotive systems. Sources: Infineon Q2 2018 Investors Relations update, IHS Markit Technology Group August 2018 and Strategy Analytics April 2018. 
What else do investors need to know about the automotive industry?
The automotive industry is increasingly adopting technology – both in terms of industrial automation when it comes to making manufacturing more efficient, but also the technological complexity of systems within the car.

However in terms of outputs, the cost of technology components in a new car is a relatively small part of the product's overall cost – the main cost of a car remains the raw metals used. Compare this to smartphones, where the cost of technology inputs such as computer chips accounts for a significant portion of the product cost which the consumer pays.

Given the potentially dangerous implications of technology failing in a car, manufacturers tend to choose the best-in-breed technology from its suppliers, but this remains a relatively small proportion of overall costs.

This best-in-breed model makes it difficult for new entrants to compete with industry leaders, which have strong industry relationships given suppliers might sign multi-year contracts to ensure that systems will remain operational over the useful life of the car (such as a three-year development period and a five-year production run). This long-term approach can also give investors good long-term visibility on future revenue streams and margins.
Have our latest insights delivered straight to your inbox
SUBSCRIBE NOW
Not for Retail distribution: