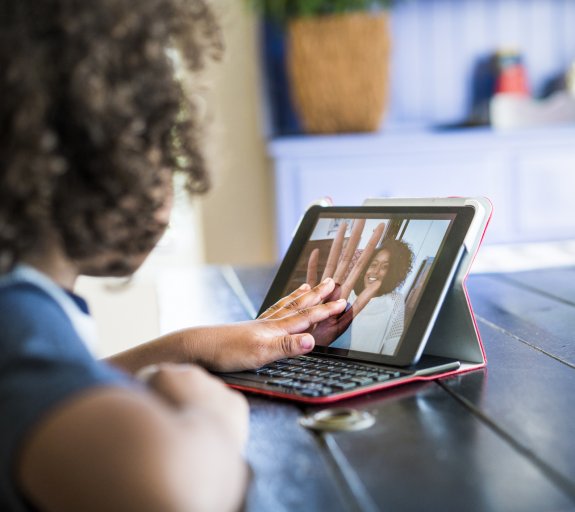 What will post-pandemic society look like ?
09 June 2020 (5 min read)
---
It'll be a revelation to no-one that UK consumers have a real taste for convenience. About 90% of shoppers use Amazon, while 40% pay for a Prime subscription1 . And the luxury of organising life from your armchair extends beyond shopping – the nation is increasingly embracing grocery deliveries, takeaways and online finance.
The trend of convenient solutions to life's problems was on the rise long before COVID-19. But the onset of the pandemic has accelerated the pace of change – not least in the area of home working, where reliable wireless connectivity is paramount.
For companies, that leads to creative destruction: businesses rendered obsolete, as their product or service is supplanted by something new. It also gives companies the impetus to speed up technology that's under development, to meet the world's evolving needs. We're already seeing signs of changing consumer behaviour – US telecom company Verizon reported a 75% increase in demand for its services in mid-March2 . And in the UK, a survey undertaken by O2 found that "45% of respondents predict a permanent change in their employers' approach to flexible working" after COVID-193 .
Why change creates opportunity?
If long-term working patterns do change, quality connectivity moves from being a 'nice to have' to downright essential. In that context, it's not surprising that some of the stocks that have performed best recently reflect the demand for increasing connectivity and data usage.
One such example is Spirent Communications, which offers testing and measurement, analytics and assurance solutions for next-generation devices and networks. As the demand for faster connectivity grows, Spirent is nicely positioned to supply services and products to the next-generation 5G networks.
Increased connectivity is not the only area where we see change. COVID-19 has necessitated economic stimulus measures, which in turn should lead to more infrastructure spending. One company benefiting from this trend is Breedon Group. Its shares have fared well this year as investors have become more optimistic in anticipation of a national infrastructure build programme. The prospect of UK fiscal stimulus measures leaves Breedon well positioned, in our opinion, to supply products and take market share through its unrivalled service levels.
The third trend driving change is geopolitical instability. The pandemic is accelerating a move from globalisation towards protectionism, which had already started before the virus hit. In late 2019, 
American tariffs on Chinese goods had climbed to levels last seen in 1993[4]. The US-China trade war had already soured relations, which are not being improved by anti-Chinese rhetoric from the White House. Meanwhile, China has been using the threat of tariffs to quell criticism from Australia4 .
The recent falls in the price of West Texas Intermediate oil could also drive geopolitical instability, particularly in oil-exporting countries like Russia and Nigeria5 . We've already seen an oil-price war early this year, triggered by discontent between Russia and Saudi Arabia. If oil prices were to hover around the $20 point in the long term, oil-exporting countries would feel the effects in their coffers, and would have less scope to soothe domestic problems using public spending.
One business set to benefit from higher levels of geopolitical uncertainty is Chemring, which operates in the military, government agency and corporate markets. It solves critical problems using countermeasures, sensors and energetic solutions. Through Roke, its higher-margin, intellectual capital-rich business, Chemring is also moving into areas of high margin and secular growth, such as cyber security.
How can investors benefit from these changes?
It's increasingly apparent that companies do not operate in isolation from the economy and the wider geopolitical environment. Black swan events – such as the COVID-19 pandemic – are a reminder of the importance of strong corporate leaders who are unfazed by change and who can adapt accordingly.
As custodians of our clients' capital,  we are continually on the lookout for the companies that will thrive in the long term. We are focusing on domestic and internationally exposed UK-listed businesses, where the fundamental profit drivers are entrenched, and equity holders benefit from management's capital allocation and risk-taking.
aHR0cHM6Ly93d3cudGhlZ3VhcmRpYW4uY29tL2J1c2luZXNzLzIwMTkvbWFyLzA3L2FsbW9zdC05MC1vZi11ay1zaG9wcGVycy11c2UtYW1hem9uLXJlc2VhcmNoLXJldmVhbHM=
aHR0cHM6Ly93d3cuY25iYy5jb20vMjAyMC8wMy8yMC93aHktdGhlLWNvcm9uYXZpcnVzLXBhbmRlbWljLW1heS1mYXN0LWZvcndhcmQtNWctYWRvcHRpb24taW4tdGhlLXVzLmh0bWw=
aHR0cHM6Ly93d3cuaXNwcmV2aWV3LmNvLnVrL2luZGV4LnBocC8yMDIwLzA1L28yLXVrLXN1cnZleS1mb3JlY2FzdC1yaXNlLWluLWhvbWUtd29ya2luZy1hZnRlci1jb3ZpZC0xOS5odG1s
aHR0cHM6Ly93d3cuZWNvbm9taXN0LmNvbS9sZWFkZXJzLzIwMjAvMDUvMTQvaGFzLWNvdmlkLTE5LWtpbGxlZC1nbG9iYWxpc2F0aW9u
aHR0cHM6Ly93d3cubmV3c3RhdGVzbWFuLmNvbS93b3JsZC9taWRkbGUtZWFzdC8yMDIwLzA0L2hvdy0yMC1vaWwtd2lsbC1jaGFuZ2UtZ2VvcG9saXRpY3M=
Have our latest insights delivered straight to your inbox
SUBSCRIBE NOW
Not for Retail distribution