The need for yield in a changing world
Higher savings rates, accommodative monetary policy and changing demographic trends have pushed interest rates lower throughout the last decade. This has lead investors further up the risk spectrum in the search for yield.
Secured assets can offer investors higher expected risk-adjusted yield than a traditional investment grade credit allocation. This is partly due to their illiquidity premium, but also due to changes in bank regulations which has meant that many borrowers have turned to private markets rather than banks for their financing needs.
In addition to increased risk-adjusted yield, secured assets can also offer investors:
1.
An additional tool to help generate stable and predictable cashflows
2.
Risk mitigation in a rising rate environment through a portfolio's floating rate cashflows
3.
Diversification within a fixed income portfolio and a broader pool of growth-seeking assets
4.
Lower mark-to-market volatility in private assets, enabling long-term strategic allocations
AUM of structured finance and real assets
largest managers of alternative credit
track record of investing across the full spectrum of liquid and illiquid strategies
Source: AXA IM, as at December 2020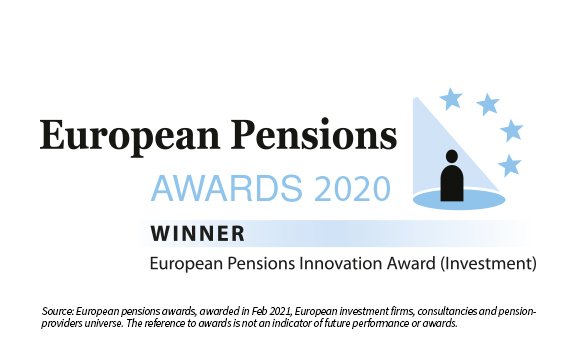 Our solutions for institutional investors
For investors focused on meeting obligations such as pension payments or insurance liabilities, accessing the size and diversity of the growing secured finance asset classes offers the potential to cover many investment needs not sufficiently covered by traditional bonds.
Integrating the cashflow and yield generating characteristics of secured assets into portfolios can present real challenges, even for the most sophisticated investors. Working with clients and advisors we build compelling pooled and customised solutions with targeted outcomes, and help you navigate the complexities of implementation.
Today we are one of the largest managers of alternative credit assets in Europe, with 20 years of experience across the full spectrum of liquid and illiquid strategies.
As well as offering a potential yield premium versus traditional credit, secured finance can provide diversification benefits by investing in the full scope of debt instruments, secured by different types of collateral, in both the public and private markets, from asset backed securities, collateralised loan obligations (CLOs) and mid-market loans, to commercial real estate and infrastructure loans.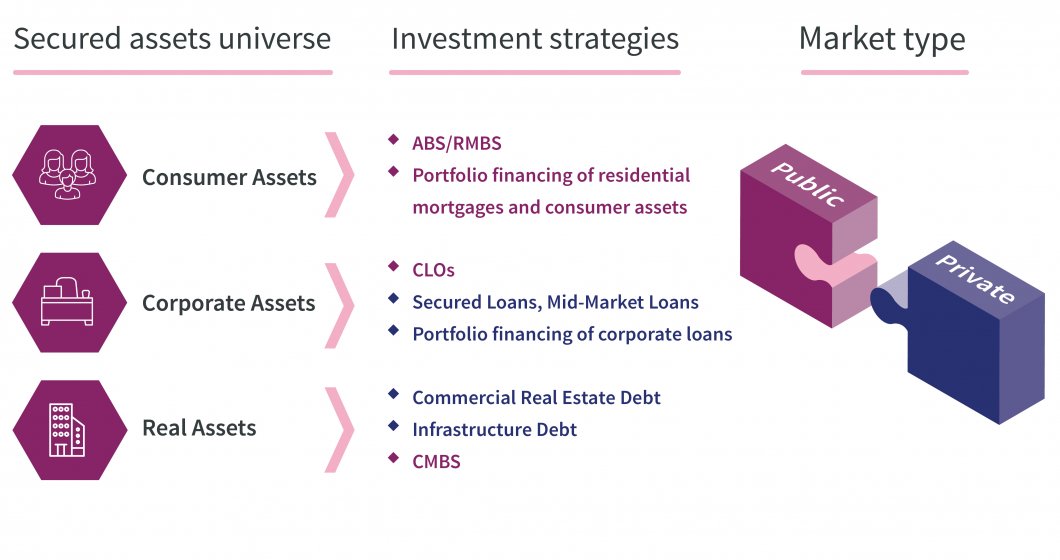 Global Secured Finance
The Global Secured Finance strategy is a sterling cash strategy designed to provide quality, predictable cashflows with diversification and risk mitigation benefits by:
Providing access to the full spectrum of the secured finance universe through both liquid and private strategies
Extracting extra yields through illiquidity and complexity premia through diversified exposure across asset types
Actively allocating across regions, asset classes and sectors with dynamic rebalancing
Risk considerations
General risk factors of investing in a global portfolio of secured assets debt include currency risk, credit risk and liquidity risk. Investment in secured assets should normally be on a long-term buy and hold basis. Other risk considerations for long-term investors include but are not limited to:
General economic and market conditions
Market risk
Performance risk
Model risk
Concentration risk
The value of investments may fall as well as rise and you may not get back the full amount invested.
To learn more, please contact your AXA IM Alternatives representative
Are you a financial advisor, institutional, or other professional investor?
This section is for professional investors only. You need to confirm that you have the required investment knowledge and experience to view this content. This includes understanding the risks associated with investment products, and any other required qualifications according to the rules of your jurisdiction.
Not for Retail distribution