What is thematic investing?
Thematic investing – often called trend investing or mega-trend investing – is a broad term used to describe investment approaches which focus on certain economic, corporate, social or technological themes. In today's highly disruptive world, these themes are typically focussed around the main two drivers of long-term corporate behaviour – demographic shifts and technological changes.
The five evolving economy themes we have identified are the results of long-term demographic trends and technological developments. We believe they can offer equity investors access to the best opportunities for long-term structural growth, regardless of how companies are defined geographically or from a sector perspective.
Does thematic investing work?
We believe that geographic or investment sector definitions – which were once a convenient way for investors to classify companies and decide asset allocations – must evolve to meet the reality that the world is increasingly complicated and connected than ever before.
A thematic investment approach aims to help investors:
Tap into drivers of long-term change and growth
Better identify companies' longer-term prospects
Articulate particular investment convictions
Is thematic investing a long-term approach?
We believe that thematic investing should fundamentally seek long-term outcomes for investors and is therefore a rational rather than fashionable approach. In fact, we see thematic as the new normal of equity investing.
While many individual themes or trends can capture investors' attention, it's important to take a nuanced and diversified approach. This can help investors mitigate volatility and cyclicality which may arise from a theme having a small or concentrated investible universe of suitable companies.
How can investors access the evolving economy?
To help people invest in the companies that are embracing these changes, we have adapted our internal research capabilities to incorporate the five main trends that we believe represent the future for long-term fundamental growth investing.
Active thematic investing
We believe that active management plays a crucial role in adding value when investing in such long-term thematic opportunities. Accordingly, our team seeks to identify the companies that are best placed to benefit from the themes, rather than just investing in a basket of stocks exposed to the theme.
Disruption in the corporate world is dynamic in nature, and it is therefore critical to identify the individual long-term winners, as there are losers even in areas of high structural growth.
Understanding the difference between short-term hype and longer-term commercial reality is therefore crucial for investors looking for sustainable performance.
A thematic approach can also help investors understand how companies which are evolving their business model might fare in future – for example, a company which still generates most of its revenues today from a traditional business or product, may be making great strides into a new industry or customer base that may make it a compelling long-term investment.
Why AXA IM for thematic investing?
1.
Rigorous selection process to identify long-term growth themes
To differentiate market hype from the investable reality when identifying long-term trends, we look for evidence (like research/statistics from relevant and credible sources) that the theme has the potential to deliver 10% or more growth year-on-year over the next decade.
2.
Active approach for sustainable long-term outcomes
As companies become more global and more multi-sector, understanding a businesses' market, strategy and customers is crucial to identifying the long-term winners and losers within a theme.
 
Time tested active approach since 1960
Focus on companies with the proven ability to deliver commercially sustainable results from innovations 
100s of meetings each year with company management helps us identify winners and losers 
Our active selection approach is rooted in AXA IM Equity's' fundamental philosophy of selecting high-quality companies we think have the highest potential, rather than just investing in a basket of stocks that operate in a certain sector.
3.
Focus on thematic purity through innovative proprietary research
To give investors access to long-term drivers of returns, we have evolved our collaborative research organization to prioritise thematic exposure over geographic and sector information which is less relevant for evaluating today's multi-sector businesses.
 
Collaborative research pods help us combine deep expertise with a best-ideas approach
Our proprietary thematic exposure database also allows us to quantify companies' levels of exposure to specific themes across the evolving economy, across a universe of approximately 11,000 listed companies.
Image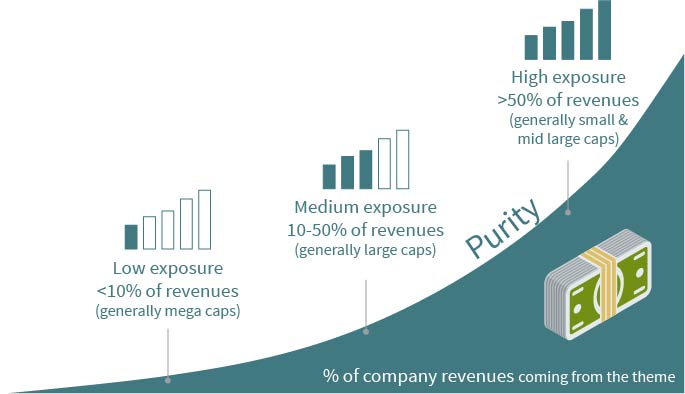 Our portfolios tend to have a high level of purity related to the themes. Typically more than 70% of stocks in our portfolio have high or medium exposure to a specific growth theme. This ensures high thematic purity with suitable diversification, while also allowing us to invest in companies with high potential at an earlier stage of tapping into long-term trend or changing their business. 
Note: All figures quoted are from AXA IM, correct as at 30 September 2020.
Risks considerations for this strategy:
Growth targets are internal, for illustrative purposes only, and are not guaranteed. All investment involves risks, including the loss of capital. Thematic equity investing approaches are invested in financial markets and use techniques and instruments which are subject to some levels of variations, which may result in gains or losses, and can be exposed to specific economic, political or company-specific risks.
Visit our fund centre
Equities
AXA WF Framlington Clean Economy
The 'clean economy' is the universe of companies whose activities improve resource sustainability, support the energy transition or address the issue of water scarcity.
View funds
Equities
AXA WF Framlington Digital Economy
Rapid advances in technology have significantly improved consumers' experiences of shopping online, and digitally savvy companies now offer a broader selection of goods, faster delivery, secure payments and 24/7 mobile access.
View funds