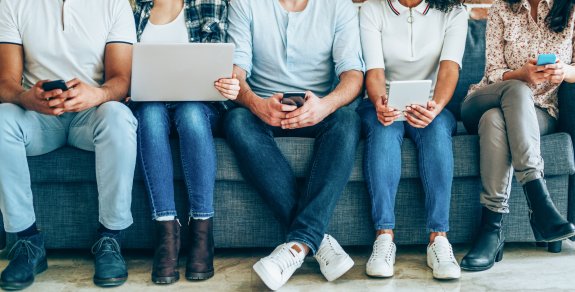 Equities
Digital Economy strategy - September 2021
07 October 2021
5min read
---
Weaker markets in September after seven consecutive months of positive returns, but underlying trends are intact
The 'Decision' theme contributed most to performance
Strong performance from dating Apps and Online Travel Agencies (OTAs)
We would be inclined to use share price weaknesses as an opportunity to invest
What's happening?
After seven consecutive months of positive returns, global equity markets fell in September, with the MSCI All Country World index declining 4.1%1.  Central banks confirming that we are at the start of the next tightening cycle and persistent inflation concerns were the main driving factors of the market correction. In addition, in the US, the economy is grappling with a surge in the delta coronavirus variant and markets remained volatile in Asia after Evergrande, one of China's biggest real estate developer, defaulted on its interest rate payments.
Portfolio positioning and performance
During September, our exposure to the Decision theme contributed most to performance. We saw strong performance from dating App company Match Group and online travel agent Booking Holdings, as both names are benefitting from economies reopening.
Within the Delivery theme, we saw good performance from cybersecurity company Darktrace after reporting strong results with significant growth in customers and a robust product traction.
Within Data & Enablers, Salesforce, enterprise software-as-a-service (SaaS) provider of a broad suite of customer relationship management tools, performed strongly after upgrading its revenue and margin guidance for the next fiscal year.
We saw weaker performance from digital payment company Paypal despite fundamentals remaining solid and logistics real estate provider Goodman group as broader sector sentiment was less favorable over the month.
During September, we sold the remainder of the investment in Chinese food delivery, travel and lifestyle platform Meituan as regulatory uncertainties over matters such as drivers' social insurance costs continue to be an overhang.
Outlook
As we emerge from the Covid19 pandemic, we are aware that equity markets may continue to be volatile and this could be the case for a while until we get better insight with regards to the recovery of the global economy. We continue to believe that the opportunities driven by the long-term themes within the strategy remain intact and our focus on identifying well managed businesses, with proven operating models and large opportunities still to address is the right approach to investing in the long-term growth opportunities present within the Digital Economy.
Whilst many aspects of the Digital Economy delivered expansion during the Covid19 outbreak, we are cognisant that questions will be raised about the future likelihood of growth as the world returns to some level of normality.  We are aware that annualised growth rates might be challenging in the near term, and we have taken this into account within the strategy.  However, we believe that many of these investments are in companies that will continue to flourish over the coming years despite near term headwinds and so we look to use any weakness in share prices as an opportunity to add to our holdings.
The digital evolution is not an overnight coup, whilst some decisions had to be made in a hurried fashion last year in order to ensure that businesses could remain operational during an unexpected event there are also many opportunities that will develop over time as companies seek to put in place the systems and technology to enable business continuity if a similar event ever happens again.
The strategy remains well positioned to benefit from the trends associated with the digital economy theme, such as digital payments, cyber-security and e-commerce.
Source: Bloomberg as of 30/09/2021
Have our latest insights delivered straight to your inbox
SUBSCRIBE NOW
Not for retail distribution