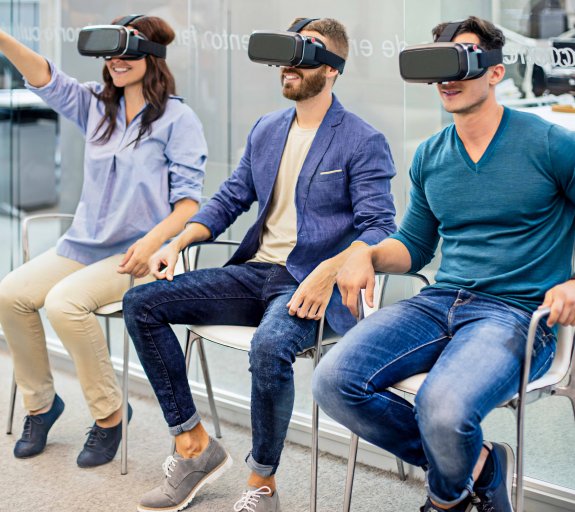 Finding long-term growth opportunities for Tech in a volatile market
24 March 2022 (5 min read)
---
The macroeconomic environment suggests significant challenges in the short-medium term - inflation, rising interest rates and escalating geopolitical tensions are all weighing on investor sentiment. Economists are considering the implications of higher energy prices on the cost of living and consumer purchasing power.
More positively, the shape of the yield curve remains flat, particularly for forward markets, indicating a consensus that the peak in the rate cycle will be low with limited follow-through. Volatility should start to settle, which would benefit equities growth into 2023.
Jeremy Gleeson, Portfolio Manager of the AXA IM Global Technology Strategy explains how long-term fundamentals hold up for promising opportunities and growth for investors in well-chosen technology strategies.
In managing a global technology strategy, we focus on identifying companies with strong fundamentals exposed to significant long-term themes via a combined quantitative and qualitative approach, resulting in portfolios with a high active share, low turnover, and good diversification. We don't chase niches or fads, nor seek to anticipate macro events with short-term trading. This is pertinent when considering how rising interest rates could impact the growth potential of equities in the immediate future.
Consider the previous rate rise cycle in the US from 2015-18; while growth stocks are expected to underperform in a rising rate environment, the technology component of the MSCI ACWI returned approximately three times the performance of the broader index during the last upward rate cycle.
---
It is hard to suggest that 2022 will be any less volatile than 2021, and yet the technology sector has continued to report robust growth with good levels of cash and reassuring balance sheets. Of the companies in the MSCI ACWI which have reported Q4 2021 earnings as of 24 March, 67% reported better than expected revenues, and 57% reported better than expected earnings. For the technology components of the same index, the results have been 69% and 63% respectively, demonstrating the successful growth of technology companies over the last year.
Demand for new technology from enterprises and consumers continues to support growth. The use of semiconductors proliferates in a wide variety of end markets such as the internet of things (IoT) or the automotive industry. Cloud computing and digital transformation projects are contributing to growth in IT spending. According to Gartner, worldwide IT spending growth in 2021 was 6.9% higher compared to 2020, and a further 6% growth is forecast for 2022 driven by digital acceleration as enterprises around the world look to upgrade their systems to become more efficient, retain more employees, and grow their businesses*.
Within the large cap tech space, investors have been distracted by noise from a small number of high-profile companies. Meta (Facebook) has been negatively affected by changes in smartphone operating systems curtailing its ability to harvest user data, coupled with increased competition from the likes of TikTok amongst younger demographics. It's important to recognise these are very specific, idiosyncratic difficulties faced by this company and is not reflective of the performance of other large cap tech companies that have mostly reported encouraging results. Apple appear to be navigating supply chain difficulties nimbly whilst simultaneously enjoying strong demand for their devices; consumers continue to purchase new technology products. Alphabet (Google) reported excellent results as advertising revenue benefits from the re-emergence of traditionally high spenders such as the travel and leisure industries, which have been more supressed during the pandemic. Amazon sees continued strength from their e-commerce and cloud computing offerings, whilst semiconductor businesses benefit from several trends stimulating demand, including 5G which is still in its infancy.
Connected Consumer
Technology and demographics are two powerful forces driving the long-term themes of the connected consumer, and the need for businesses to adopt a digital mindset when engaging with partners, customers, and employees. Widespread adoption of technology such as smartphones allows us to be connected at all times, with the younger generations in particular having a digital-first mindset. As their consumption grows and more spending takes place online or via digital channels, we seek to capture these opportunities within four key themes:
---
'Discovery' and 'Decisions' are all about how consumers search for, and identify products and services, and how businesses attract new customers. COVID-19 was responsible for a boom in e-commerce as lockdowns meant that a greater number of people than ever before were shopping online. This created greater opportunities for online advertising, and for companies operating in the social media space.
'Delivery' is another long-term theme of digitalisation is the shift from physical cash to electronic payments, as dealing with the former proves increasingly impractical. Card-based or mobile-wallet based transactions, such as Apple Pay, are becoming the preferred option in physical shops. Cybersecurity is also a critical issue that has come increasingly under the spotlight as more people work from home and more transactions are conducted online.
'Data and enablers' together refer to companies that provide technologies or services that help their customers adopt a digital ethos.
IT services companies, such as Endava and Globant, have enjoyed good growth as businesses undergoing digital transformation seek help from experts to hone their digital strategy.  We have also seen good potential investment opportunities in companies exposed to the digitalisation of the back office, as well as changing employee expectations driven by new legislation for employers.
Outlook
The connected consumer and digitalisation themes have been beneficiaries of the effects of the pandemic, with many companies seeing growth and attracting new customers. We have been mindful that some opportunities will normalise and revert to more challenging growth comparisons as its effects recede hence we have taken profits in companies facilitating working from home capabilities or remote access systems. There remain, however, strong tailwinds as a longer-term legacy of COVID-19, and recent market volatility has shaken out stocks with attractive valuations which complement our strategies. The increasing demand for employee-facing digital HR and payroll systems, digital banking and payment solutions is unlikely to recede. Due to the length of the pandemic, the likelihood of businesses returning to pre-COVID 19 practices are slim as consumers and enterprises alike become used to easier, instant access to electronic services without any physical bottlenecks. Handling cash, for example, is likely to become increasingly rare as online payments become habitual. Companies such as FIS and Global Payments are well placed to benefit from this trend.
Technology stocks are often regarded as long duration investments due in part to their research and development cycles and capex requirements, and as such can be more sensitive to a high rate environment such as the last rate cycle. This is not so relevant to the current environment, as technology companies today are increasingly cash generative with strong balance sheets, and don't need to borrow; in fact, the most cash-rich companies may even benefit from a higher rate environment.
Global Technology provides attractive, long-term growth opportunities. Macro events such as rate cycles will have some effect and short periods of volatility will need to be weathered, but this is not new, as seen during previous bouts of volatility such as in 2017 following the Trump election, the 2018 US/ China trade war, and more recently the pandemic which in many ways has benefitted the long-term trajectory of the technology sector. We believe our long-term theses remain firmly intact.
*Source: Gartner Q421 IT Spending Worldwide update, 18 January 2022
Important Information
No assurance can be given that our equity strategies will be successful. Investors can lose some or all of their capital invested. Our strategies are subject to risks including, but not limited to: equity; emerging markets; global investments; investments in small and micro capitalisation universe; investments in specific sectors or asset classes specific risks, liquidity risk, credit risk, counterparty risk, legal risk, valuation risk, operational risk and risks related to the underlying assets.
Have our latest insights delivered straight to your inbox
SUBSCRIBE NOW