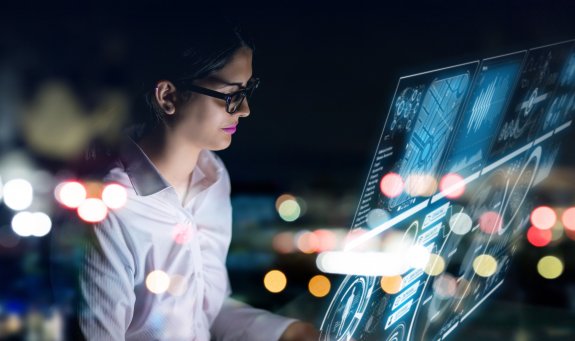 Robotech strategy - September 2021
07 October 2021 (5 min read)
---
We believe that businesses are better positioned to manage challenges than in the first phases of the 2020 pandemic   
Equity markets witnessed some volatility towards the end of the month
Some of our semiconductor holdings were weaker during September
We saw better performance from some of our Japanese automation holdings
What's happening?
Equity markets fell during September (MSCI ACWI Index in USD terms), with some volatility towards the end of the month.  Central bank commentary around tapering and inflationary concerns were cited as reasons for the weakness as well as some issues the Chinese real estate market related to a property developer China Evergrande.  The Robotech strategy modestly underperformed the market during the month.
Economic activity continues to be robust around the globe, however we are monitoring the COVID-19 Delta variant and its potential impact.  As previously mentioned, we believe that businesses are better positioned to manage these challenges than in the first phases of the pandemic in 2020 - however uncertainty persists, and supply chains around the world continue to experience some strain, with increased costs associated with raw materials and higher freight costs.
Portfolio positioning and performance
Following a period of stronger performance, some of our semiconductor holdings were weaker during September, such as Qualcomm, Teradyne and Silicon Labs.  Whilst current supply chain issues may be dampening sales of automotive and other electronic products, we believe the aforementioned group is well placed once these subside due to strong structural demand for semiconductors coming from 5G, Industry & Automotive end markets.
On the positive side, we saw better performance from some of our Japanese automation holdings, including Fanuc (Industrial Robotics and CNC Machines), Daifuku (Warehouse Automation) and Omron (Industrial Automation).
We added to our position in European Industrial company Siemens, which has a strong presence in Industrial software and increased our position in US design software company Autodesk.
We reduced our position in PTC, another US software company, as we see better opportunities elsewhere.
Outlook
Industrial activity and strong order books for industrial robotics companies bode well for a continued recovery in 2021 post the COVID-19 disruptions.  Initially, this had been led by an earlier recovery in China, with the US recovering too – but now we are seeing more signs of that strength broadening in to Europe and Japan. 
In addition to the pent up demand for automation equipment post COVID-19, we believe that there are also elements of pent up demand coming thorough post the US China trade war of 2019/2020 – we were starting to see signs of this recovery at the end of 2019 and early 2020 before COVID put companies investment plans on hold.  If this does start to materialise, this could signal a more prolonged period of higher industrial activity and CAPEX1 investments, supportive to a range of automation companies.
Ecommerce has seen volumes rise significantly during the lockdowns and companies with a strong online presence have benefitted whereas companies that have been slower to adopt ecommerce have often struggled.  Whilst some of this current shift to ecommerce is temporary, we do believe that some spending habits will be permanently altered.  To support this shift towards ecommerce going forward, we anticipate major spending for logistics and fulfilment centres as companies need to reinforce their capabilities in this area. This increase in CAPEX1 will likely be beneficial to a wide range of automation suppliers.
It is increasingly recognised that EVs2 are starting to get more interest from consumers as the costs of the vehicles come down, battery technology improves, and consumers focus on environmental trends.  What is perhaps less focussed on is the significant investment that is needed to manufacture these new Electric Vehicles and their batteries.  It is important to note that CAPEX1 decisions are being made currently for vehicles that will be produced in 12-24 months' time, so the prospects for companies supplying equipment such as industrial robots, lasers and vison systems is improving.
CAPEX: Capital Expenditure
CAPEX: Capital Expenditure
CAPEX: Capital Expenditure
EVs: Electric Vehicles
Not for retail disclaimer